Artists are very important for focusing and moulding our culture and reflecting the world back at us. Art brings people closer and helps us see the world both as it is and as it could be.
We can't imagine a world devoid of music and art. A favourite quote is Oscar Wilde in The Decay of Lying (1891) when he wrote that "life imitates art far more than art imitates life". It's about how art affects the way we look at the world around us, how the aim of life is to find expression and art offers life a way to release and express creativity.
In what's been a challenging year for everyone, we're particularly proud of our work with a variety of fantastic artists throughout 2020 and of the entertainment content we have supported with live streaming this year. We hope you enjoy the examples below.
https://www.resonatescot.co.uk/  – GROWING SCOTLAND'S MUSIC INDUSTRY
We partnered with Resonate to film and stream all their band performances which were either filmed at our purpose-built live streaming studio in the East End of Glasgow or sets were recorded in the fantastic Saint Luke's music and arts venue, also in the East End of the city.
We're also delighted that one of the headline bands that we filmed for Resonate Live 2020 – The Nickajack Men – have now just signed for Distiller Records


Tim Burgess show based in Manchester for Gorilla TV. Featuring BMX Bandits and Teenage Fanclub Norman Blake.
Another not to be missed performance was when the BMX Bandits recorded live at our Glasgow studio for the fantastic Tim Burgess show based in Manchester for Gorilla TV.
Duglas T. Stewart and the Bandits played some classic BMX Bandits accompanied by the Teenage Fanclub founded by Norman Blake. A must watch, we can't recommend this one enough.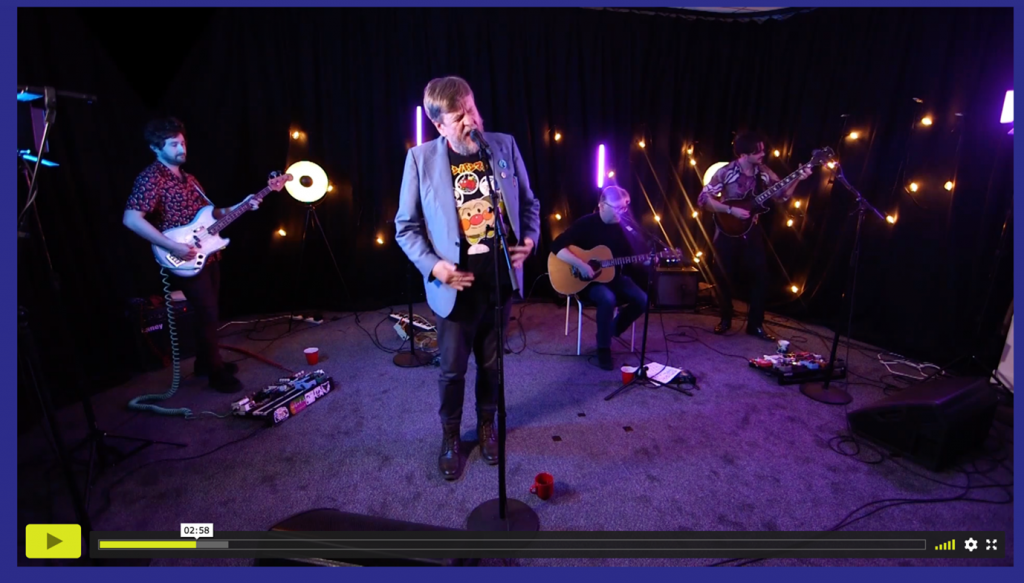 https://gorillatelevision.com/episode-six/
SONNET YOUTH
Scottish spoken word performers.
Another great one to watch is Sonnet Youth – our very own Scottish spoken word performers. We're very happy to know their show is now sponsored by Creative Scotland.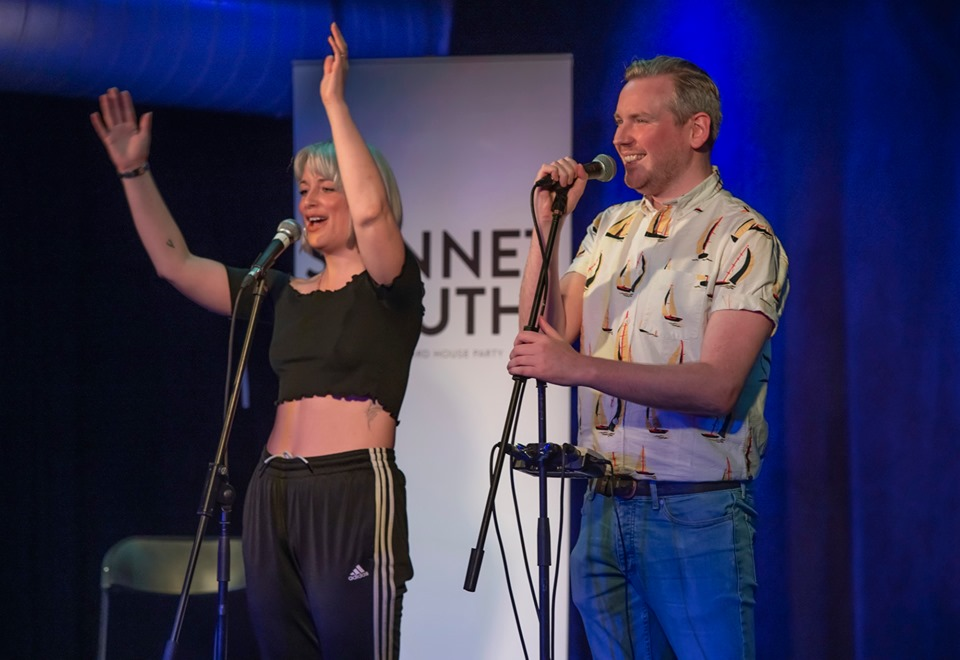 Sonnet Youth's show can be watched on their Facebook page and now on their patron site.
Care for a ceildih
We also recorded a heart – warming show for Care for a Ceilidh in partnership with CalMac Ferries. Care for a ceildih is a lovely initiative where Gaelic singers and traditional musicians provide short concerts to residents of hospices and care homes to entertain and lift the spirits of residents and staff. For this, the artists performed and we recorded the show in our studio https://www.facebook.com/CareForACeilidh/
CALMAC Choir
CalMac Ferries decided to put together their very own CalMac Choir. 5 weeks of virtual choir lessons with local choir masters Vox were offered to all staff throughout November and December. Listen to the results here.
The group, that had never sang together before, learned a festive medley over zoom. The medley includes 3 songs, 3 part harmonies and some Gaelic, for good measure!
It's been a very different and also difficult year for everyone in many ways but one positive is that's it's brought out a wealth of creativity and innovation and in some ways, a different way of viewing the world.
We'd like to thank all the artists, performers and everyone across the creative arts and all industries who worked with BlueStar Streaming this year and to wish all our clients, partners, supporters and friends a happy and relaxing Christmas as we all look forward to 2021.
#SaveTheWorldSaveTheArtists








by