For many, 2020 has become the year of the online event. Organisations whose usual business model is based on physical, venue-based live events and gatherings have had to revise their business models, to innovate and embrace new ways to engage and connect – to ensure their business stays relevant and sustainable and to turn challenges into opportunity.
At BlueStar Streaming, with years of planning and delivering successful online and live streamed events, the client support we offer includes:
Creating video content using remote filming and/or in our safe studio environment based in Glasgow
Putting content on-line – via video platforms such as YouTube and Vimeo or via a Content Delivery Network (CDN)
Adding payment gateways and monetization options, integrated into a web site or portal

Your one stop shop for online event planning and delivery
At BlueStar Streaming, with our experienced team, we can quickly and effectively deliver your online conference or event. With our in-house team there's no need to go to multiple providers which reduces both cost and time and means our team can work closely with you to understand your requirements.
We advise on planning and setting up your online event and on advertising and marketing your event through Pay Per Click (PPC), social channels and Google Ads
We create content for you – for example filming remotely or in our safe, controlled studio environment
The content can be streamed live online or made available on demand, which means you can have a live event and with on demand viewing you aren't constrained by viewer numbers, geography or time zone
We'll help you add payment gateways and look at options to monetize your event and integration of your event with your website or web portal. We also look at increasing capacity if needed, ensuring your web site doesn't crash with increased visitor/viewer numbers. Alternatively we can set up a micro site for your event that we host
Video content can be left online post event for a specified time or made available online indefinitely if needed
As well as the actual event, we can provide post event reviews, feedback and evaluations that you can use for reporting purposes and for future planning

Video marketing and live streaming experts
As a video marketing and live streaming specialist we regularly use live streaming with our clients, for a variety of purposes – including conferences, training and development, sporting events, award presentations, virtual tastings and tours, live interviews and Q& A sessions, music gigs and concerts, arts performances, media briefings, influencer outreach, product launches, demonstrations and more.
We thought we'd share how one of our clients, Dyslexia Scotland, has taken their annual conference virtual this year.
Normally a venue- based event with guest speakers, workshops, breakout and networking sessions, this year the conference was fully online.
The conference schedule was published online with new pre-recorded videos made available to view for each session.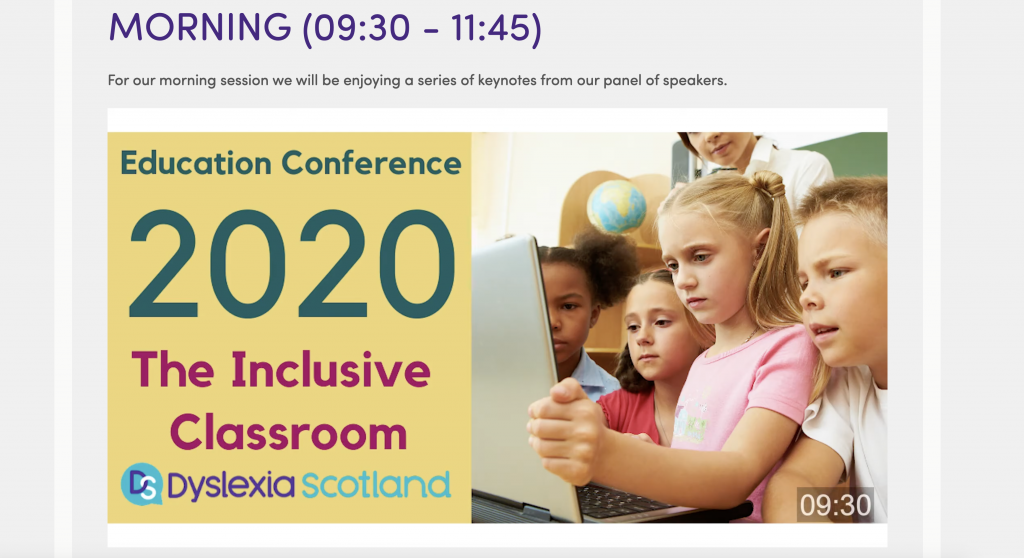 Comfort breaks and networking opportunities were incorporated and participants were encouraged during their free times at lunch and during comfort breaks to visit the online Exhibitor section and film.
The morning session began with an introduction from the Chair followed by keynotes from a panel of speakers. Speakers shared their keynotes and presentations on screen and/or spoke directly to the audience, with all speakers filmed remotely at their own home locations or in our studios.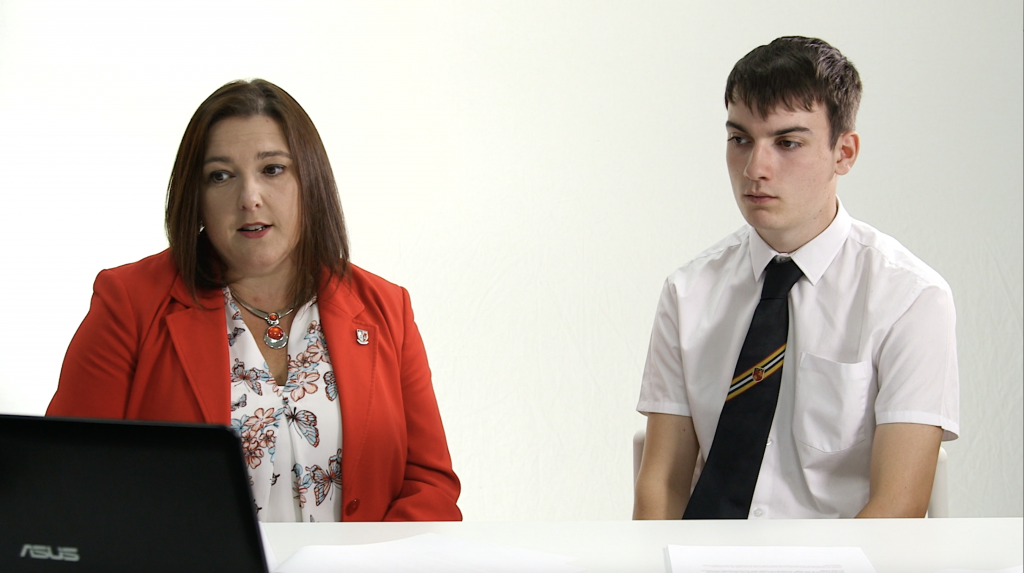 Participants were given tips and advice throughout on how to get the most out of their online conference sessions and were encouraged to tweet and share their comments about the sessions and to use the official conference hashtag.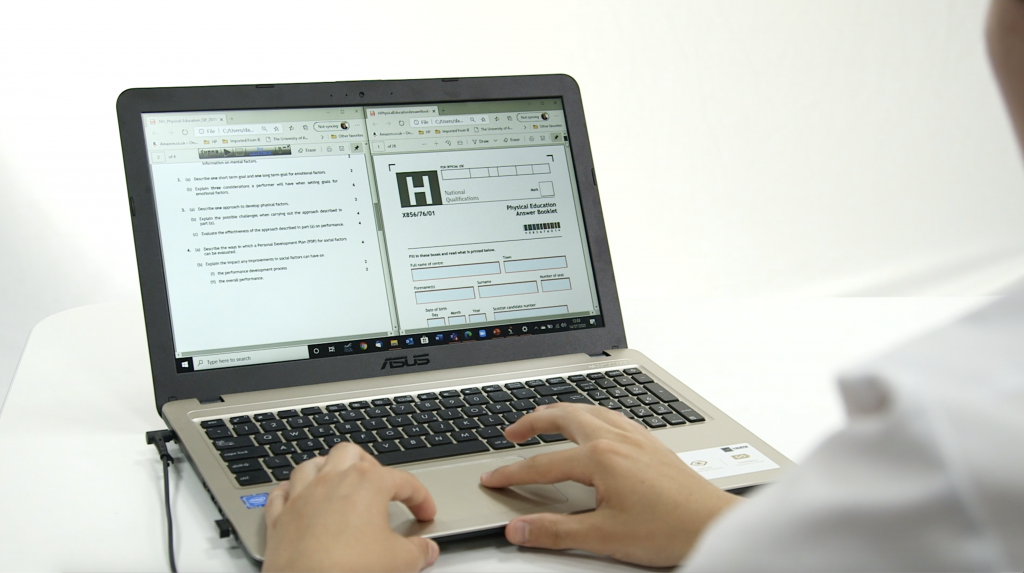 The conference was monetized and this was a paid for event with a secure payment gateway set up. In this example, the conference was also part of participant CPD development.
The afternoon session included a live Q&A using Zoom. Participants were able to use the chat function for questions during the session and had been encouraged to email in questions during the morning. A secure link was also set up so that only those on the confirmed attendance list were admitted to the Zoom session.
The afternoon continued with a series of 5 workshops that participants could join such as the example below.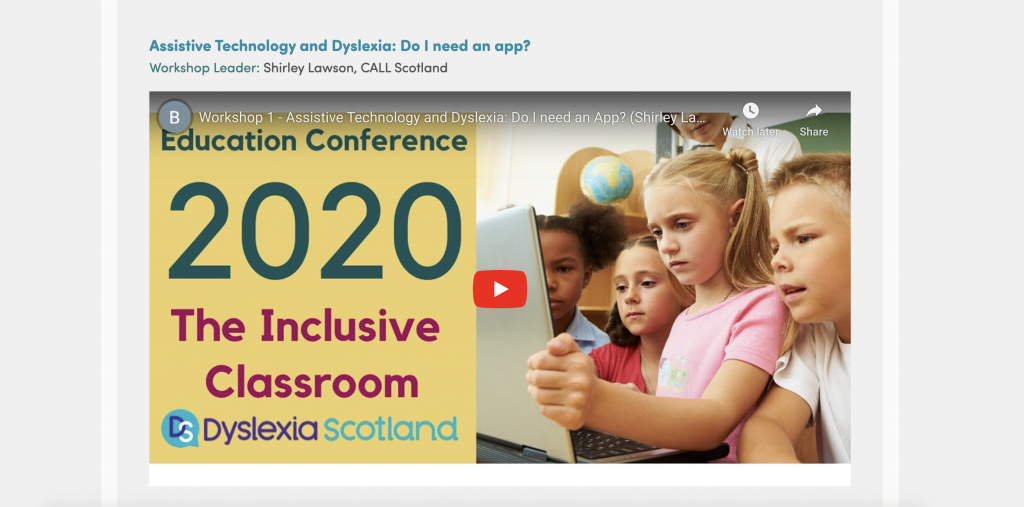 Exhibitor Space
Participants were also encouraged to visit/view the Exhibitor space which had been set up specifically to showcase exhibitors participating and promoting their services.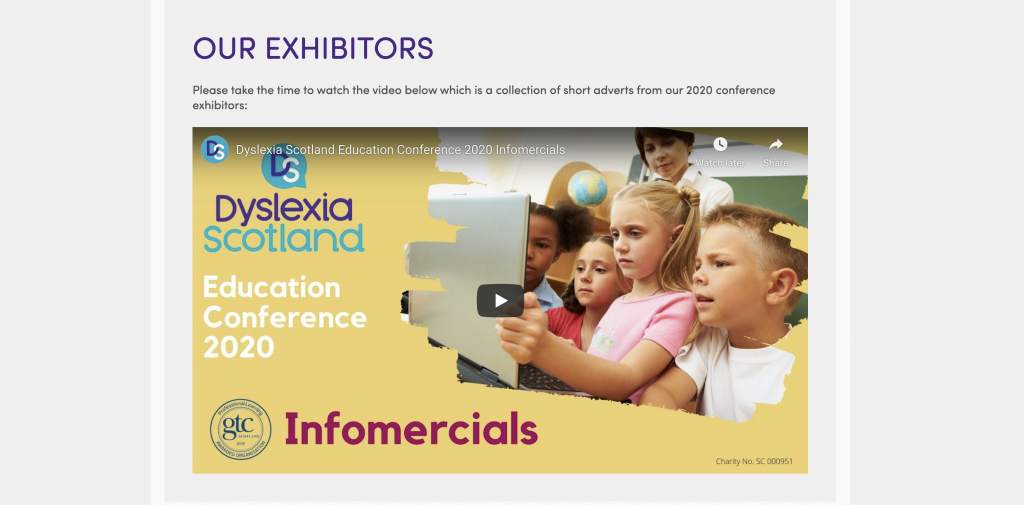 Our role in planning and delivery of the conference
For this event, we worked with Dyslexia Scotland in a variety of ways including:
Support with planning and strategy to pivot the annual conference online
Filming and editing all footage including 5 workshops, 3 keynote speakers, 1 live Zoom session
Advised on and managed the video integration to Dyslexia Scotland website
Managed load balancing for increased/high volume traffic to their website
Set up and management of all Premiere video streaming content for the conference
Technical support during lead up and on the day of the event
Analysis and stats reporting
Feedback from both the client and the participants has been very positive. Being able to deliver online enabled this year's conference to go ahead successfully. The content will remain online for a month to allow participants to access it and watch or re-watch any sessions.
"Our Education Conference is a very popular professional learning opportunity which teachers look forward to each year. When the Covid-19 pandemic hit our lives at the end of March, our Events team was in the early stages of planning this conference and quickly realised that, even if the conference could have gone ahead in October, it would be unlikely that we'd be able to accommodate our normal number of around 200 delegates due to social distancing. Therefore, we took the difficult, if somewhat radical, decision at that point, to plan to run it online. This was a challenging prospect, especially for Helen, our conference organiser, who has a lot of expertise and experience in running the conference in a physical venue, but who now had to face a huge learning curve to turn it into a virtual event. Trevor and his team at BlueStar Streaming were incredibly helpful in working with us to understand what we hoped to achieve and to guide Helen and our team patiently and expertly through that process. The outcome on the day was a professionally and slickly delivered virtual conference, with over 200 delegates and very positive feedback from them. For anyone planning to run a similar event, I cannot recommend Trevor and his team highly enough." Cathy Magee – Chief Executive, Dyslexia Scotland
Bespoke planning for your event
We always work with clients to understand and support their individual business requirements and aspirations so all planning activities and each event will be specific to our clients' needs and interests.
This is just one example. We've recently worked with other clients adopting a variety of business models to take their events online. Some online events are free streamed and operate on a 'pay what you feel basis'. Some choose to split the revenues with, for example, 50% of donations allocated for operational costs and 50% donated to a different selected local partner charity. Other events are run as online ticketed paid events. Some include sponsorship opportunities for brands – offering businesses exposure to thousands of viewers at the virtual conferences and events.
For more information and examples of our work take a look at our showreel here. For more information on Dyslexia Scotland visit their website.
For friendly, professional advice and support for taking your conference and other events online, simply Contact Us for a no obligation discussion.







by