The team have been kept busy since the start of the year and through the summer, working with a wide range of interesting clients and projects. Here's an update on some of the work we've done this year, some during earlier lockdowns and others more recently when restrictions have eased a bit. We've also used our new studio a lot this year, as a great, safe and controlled environment for shoots. Contact Us if you'd like to learn more or follow us on Instagram for our latest work.
COP26
Glasgow will be in the spotlight this November when the UK hosts the 26th UN Climate Change Conference of the Parties (COP26) at the Scottish Event Campus (SEC) from 31 October to 12 November.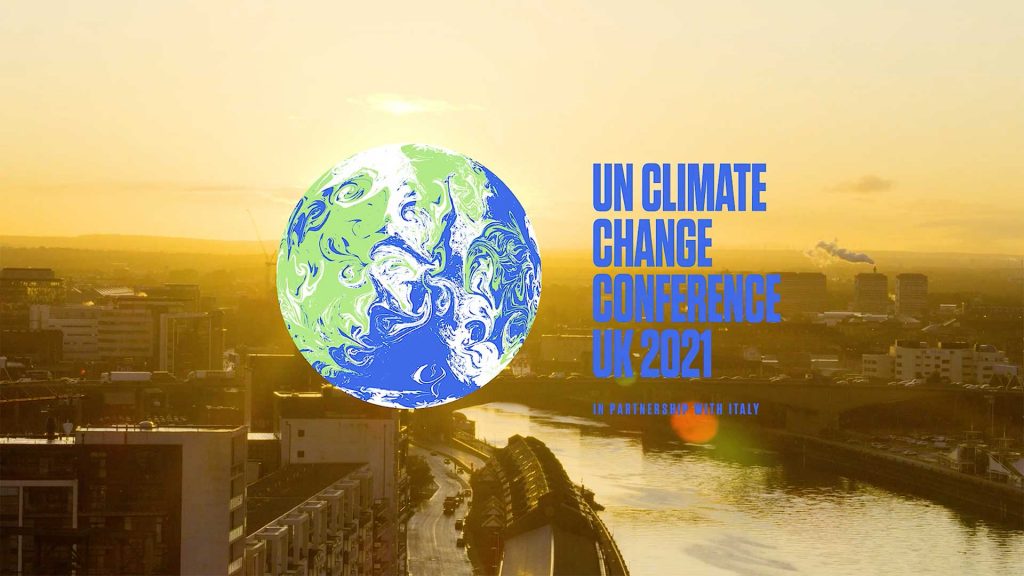 The COP26 climate talks will be the biggest summit the UK has ever hosted. It will bring together over 30,000 delegates including global political, environmental and industry leaders, heads of state, climate experts and campaigners, all with the aim of agreeing coordinated action to tackle climate change.
Glasgow was chosen as the location for this hugely important event due to its proven track record of successfully hosting major international events, its target for carbon neutrality by 2030, aim to be one of the greenest cities in Europe and indexing 4th in the world in the Global Destination Sustainability Index, as well a being a beautiful, characterful city full of green spaces.
We're delighted COP26 will be hosted in Glasgow and we were also delighted to be asked to do the filming for the COP26 Glasgow Host City Volunteering Programme Recruitment campaign launch.
As part of this major event, a team of 1,000 volunteers has been recruited to provide support and welcome the world to Glasgow and to one of the most important moments for our planet's future.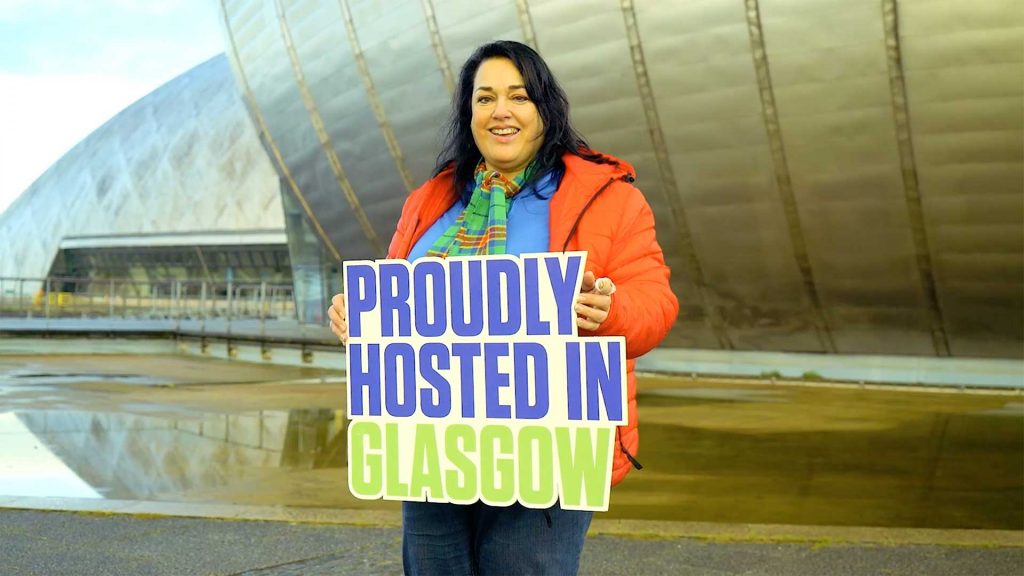 We worked with Scottish PR & social media agency Innes and Campbell, to produce an engaging volunteer recruitment video. The brief was that video content should help build a sense of excitement and significance around COP26 for the city, build awareness of COP26 among Glaswegians and officially launch the volunteer recruitment campaign earlier this year.
Videography
The videos were shot and produced to be optimised for delivery on social channels. We advise all our clients on the best formats to use and we always produce multiple formats as a given.  These went out on Instagram, Twitter, YouTube and the COP26 website.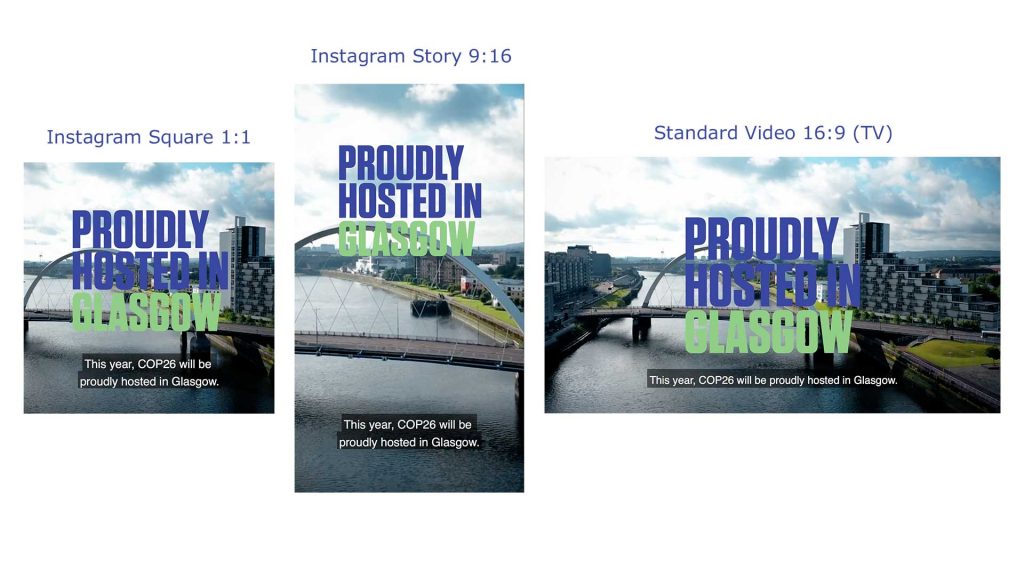 UEFA training videos
Another really enjoyable project. We worked closely with Natalie Ward Marketing and PR and with UEFA to produce the training video for their Volunteer Kick-Off, with activities across Glasgow and at Hampden stadium.
We shot a mix of pieces to camera mixed with graphical information, interspersed with fantastic interviews hosted by Sky Sports presenter Hayley McQueen.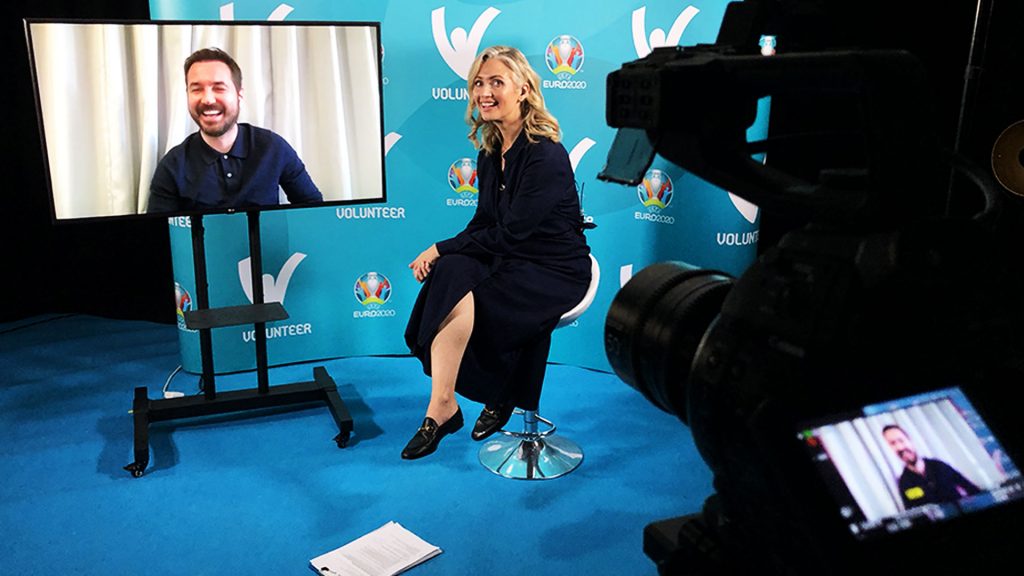 The shoot was highly technical, bringing celebrity guest interviews remotely into the studio to interact in real time with Hayley's interview.
As part of this we also produced multiple pieces of social content around the main volunteers video, such as pieces to camera from James McFadden, Hayley McQueen, Martin Compston and Roberto Martínez Montoliu to name just a few.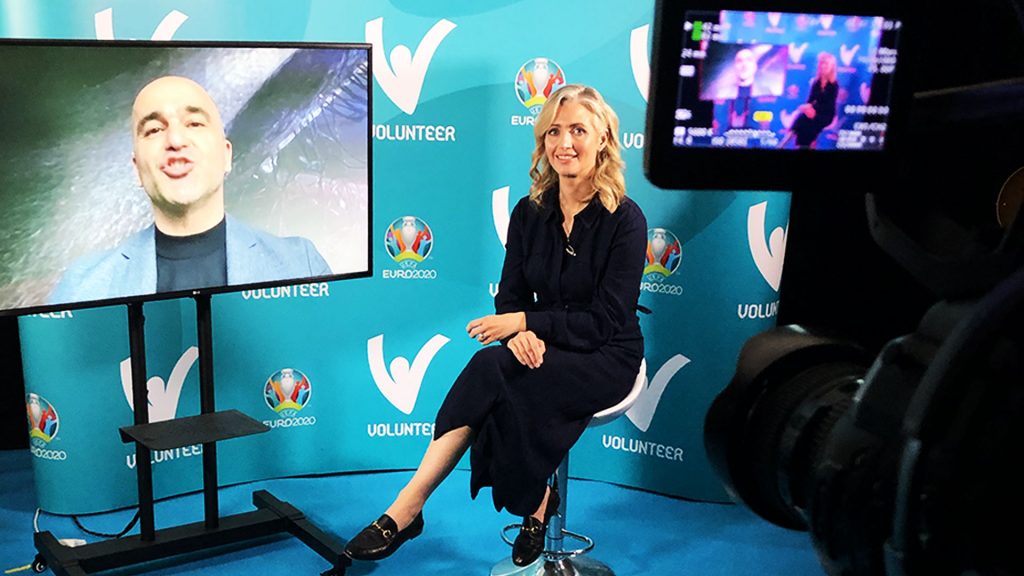 The video was all shot at our BlueStar Streaming in house studio in Glasgow, using a customised set.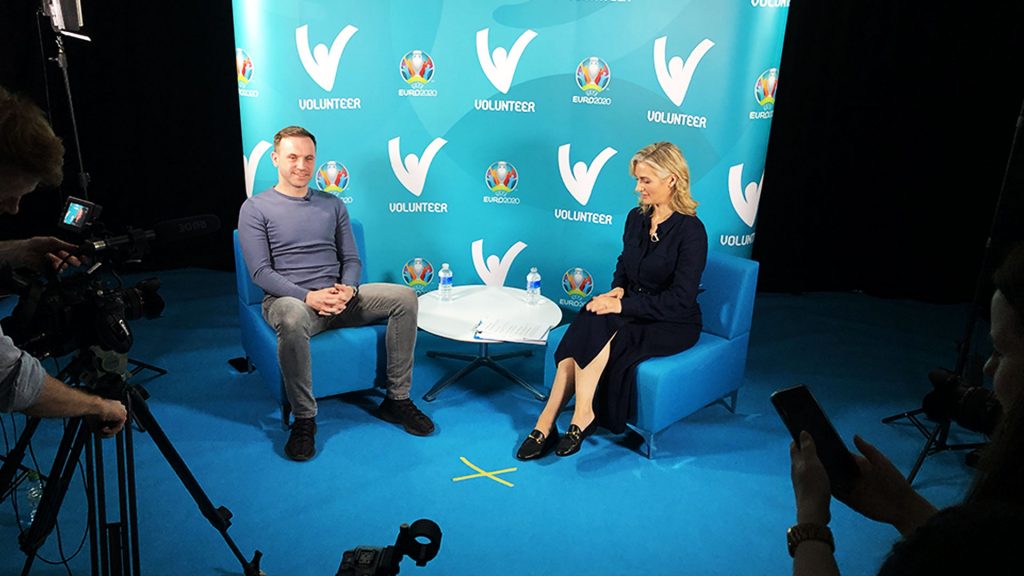 Safe studio shoots
Due to the timing of these two Volunteer Recruitment campaigns, filming had to be done during lockdown periods. We filmed at a number of key outdoor locations around Glasgow and we also put our Covid safe studio to good use. We've had our studio for two years now and have been using the controlled filming space a lot over the last 17 months, in line with Covid filming regulations and through the lock downs.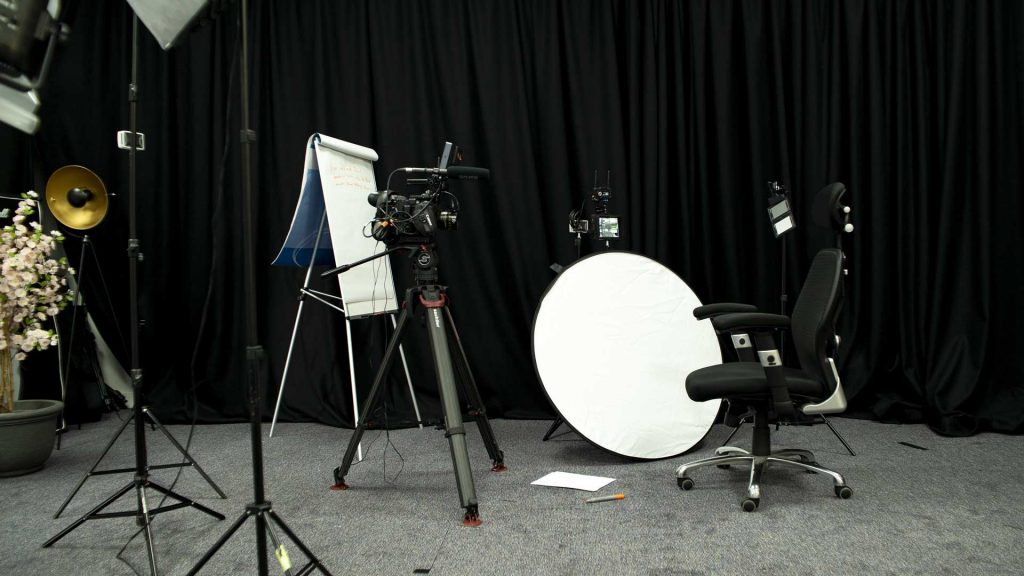 When the first lockdowns were introduced we looked at how to adapt the set up to ensure a controlled, Covid – safe environment which could be used for filming when other indoor venues weren't accessible.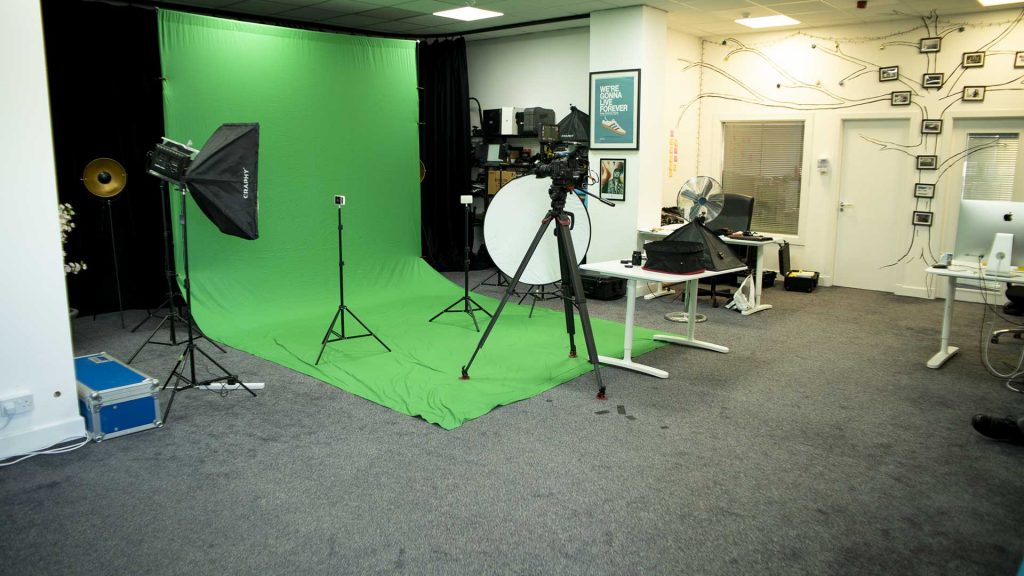 Having our own custom built multi-purpose film, video and photography studio in Glasgow allows us flexibility to shoot in a controlled, purpose-built environment to get the best footage, whether that's performance from the talent, staging interviews, hosting music and other performances or showcasing products.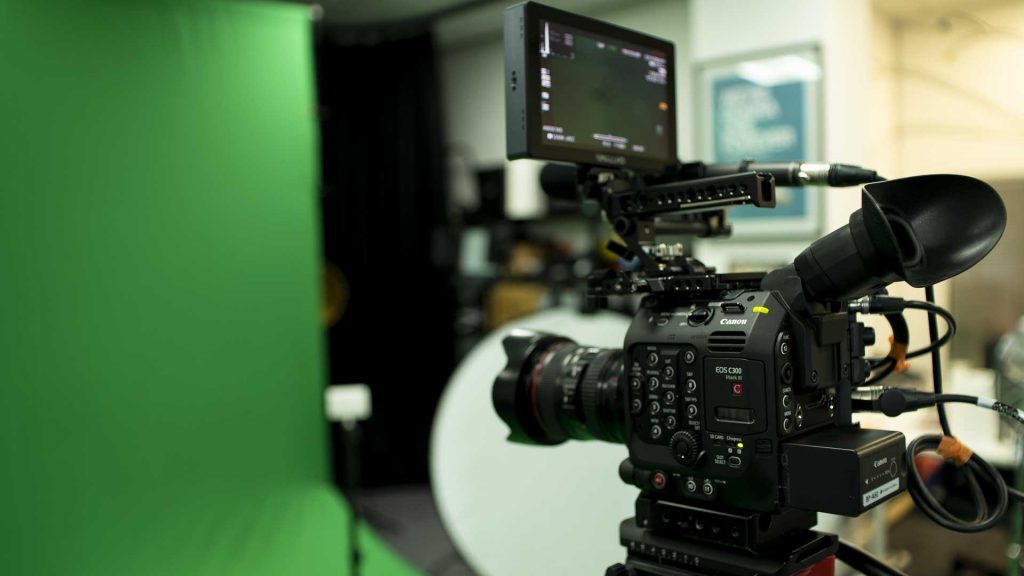 As well as the advantage of avoiding typical issues and disturbances that can arise on location based shoots, such as weather conditions, transport arrangements, background noise, varying light conditions, filming and photography regulations and venue and people availability, during Covid it's also meant we have total control over the shoots in the studio, so all are done to the highest standards, with only the necessary team involved, in a totally controlled, safe and sanitised environment, using custom built sets. Contact Us to find out more about our studio or see all our latest work on Instagram.
How we can help you
Our video marketing gives you access to our studio and to working with our creative teams who have extensive experience in successfully delivering fantastic films – from broadcast TV ads to lush Instagram reels.  We can make your video go a long way .
To discuss how we can help promote and grow your business Contact Us or follow us on Instagram for our latest work to drop.







by