Sonnet Youth is a great example of a business who've quickly and cleverly adapted to the challenges of Covid19 by moving online, introducing changes to their business model and successfully introducing new services.
Co-founded almost 5 years ago by award-winning spoken word artists Cat Hepburn (List Hot 100, BBC6 Music, Edinburgh Fringe) and Kevin P Gilday (BBC6 Music, Toronto Fringe, Glastonbury), Sonnet Youth is an exciting, very cool, spoken word theatre and cabaret organisation based in Glasgow.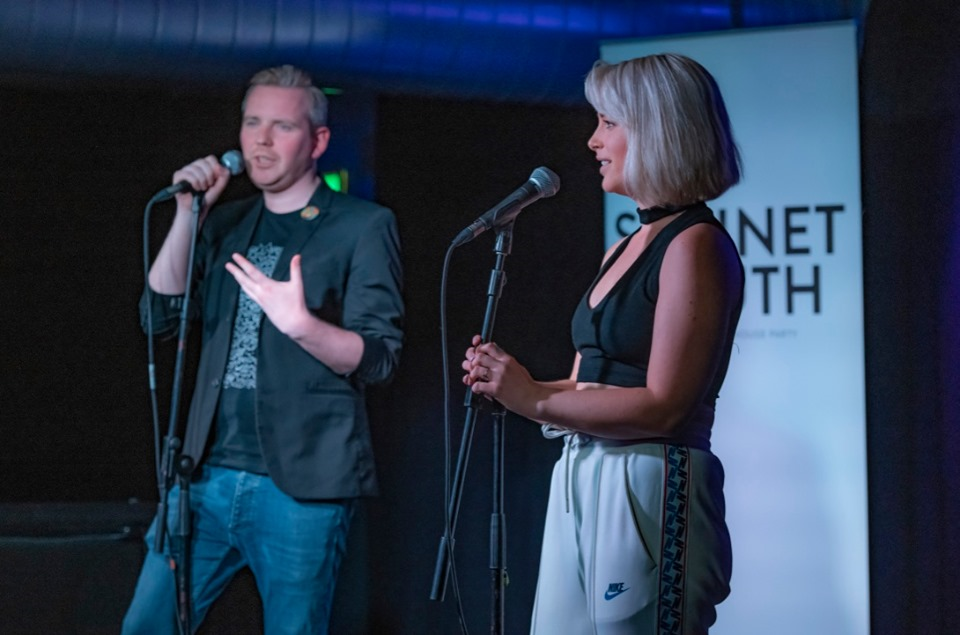 They curate live performances and events, introducing audiences to an exciting and eclectic host of spoken word performers, authors, comedians, poets and musicians.
In addition to their monthly spoken word cabaret nights, they've curated performances for numerous festivals and events (Hidden Door, Belladrum, Pride). In 2018, they directed and produced the UK tour of Victoria McNulty's solo spoken word Confessionals. In 2019 they took two successful spoken word theatre shows to the Fringe and from 2019 – early 2020 they produced the Scottish-wide tour of a spoken word theatre show, Thick Skin, Elastic Heart by Drew Taylor-Wilson.
Pre-lockdown, Sonnet Youth were producing and hosting a minimum of three monthly live gigs across Scotland with their partner venues including the Gilded Balloon (Edinburgh), The Old Hairdresser's (Glasgow) and Creative Stirling.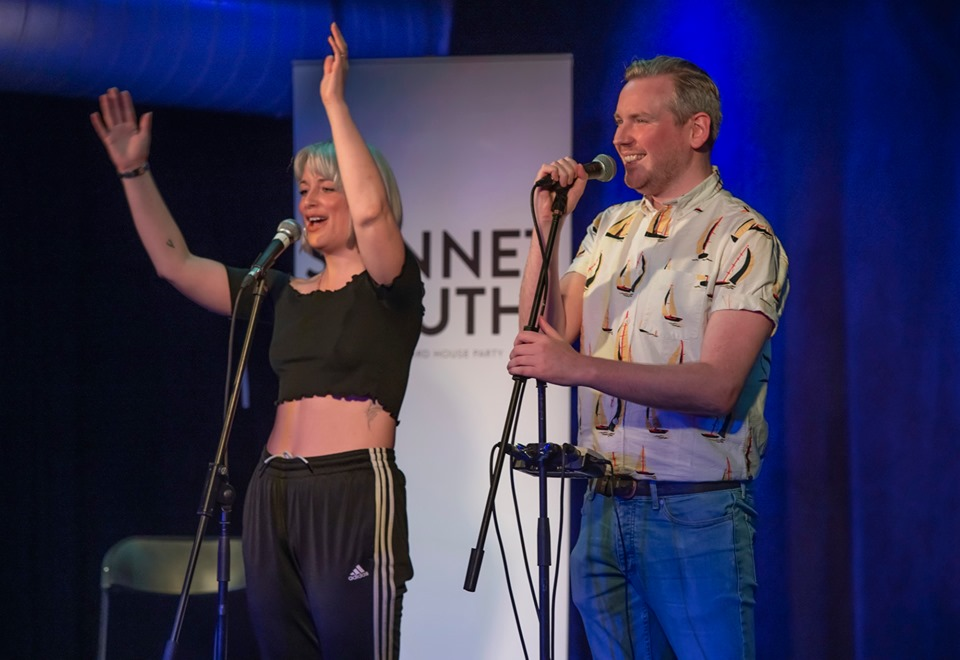 Their usual business model is based on physical, venue-based live events. When it became clear that producing live venue shows to audience gatherings was no longer an option with restrictions in force, Sonnet Youth quickly came up with a plan to keep connecting with their audience, to introduce new digital services and innovations and to ensure the business stayed sustainable, turning a challenge into an opportunity.
They teamed up with Glasgow based live streaming specialists BlueStar Streaming to enable them to move their shows and performances online.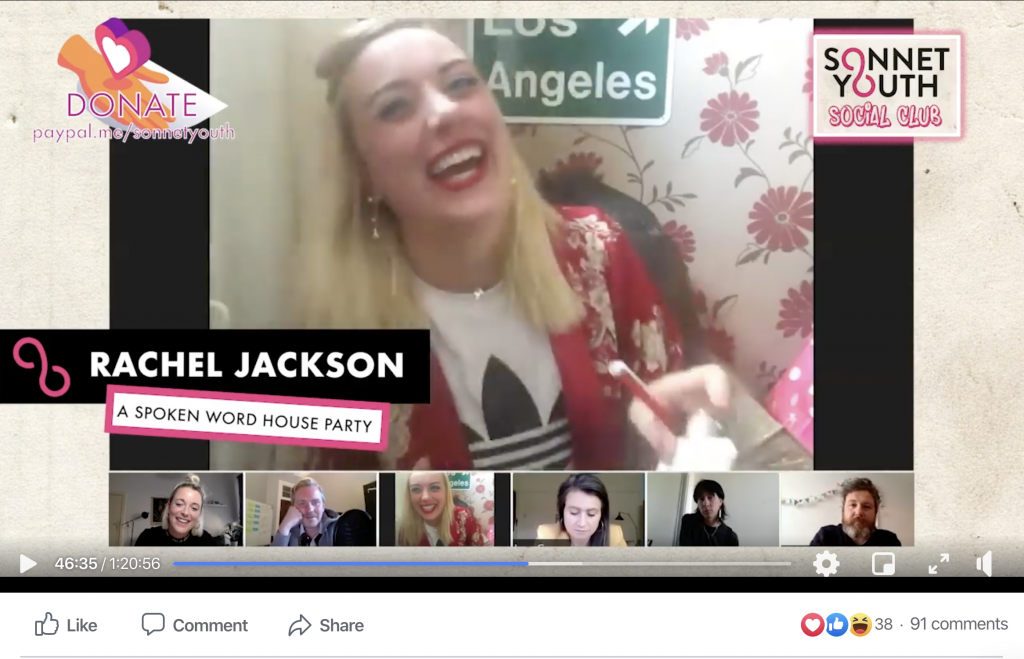 https://www.facebook.com/sonnetyouth/videos/2667677166842502
They created Sonnet Youth Social Club – a new online strand of the business, using livestreaming to bring performances into viewers homes.
Sonnet Youth Social Club is a fortnightly show on Facebook Premier Live, every second Thursday at 8:05pm. Produced by BlueStar Streaming, it is pre-recorded and features four artists (comedians, rappers, poets, musicians) with hosts Cat and Kevin.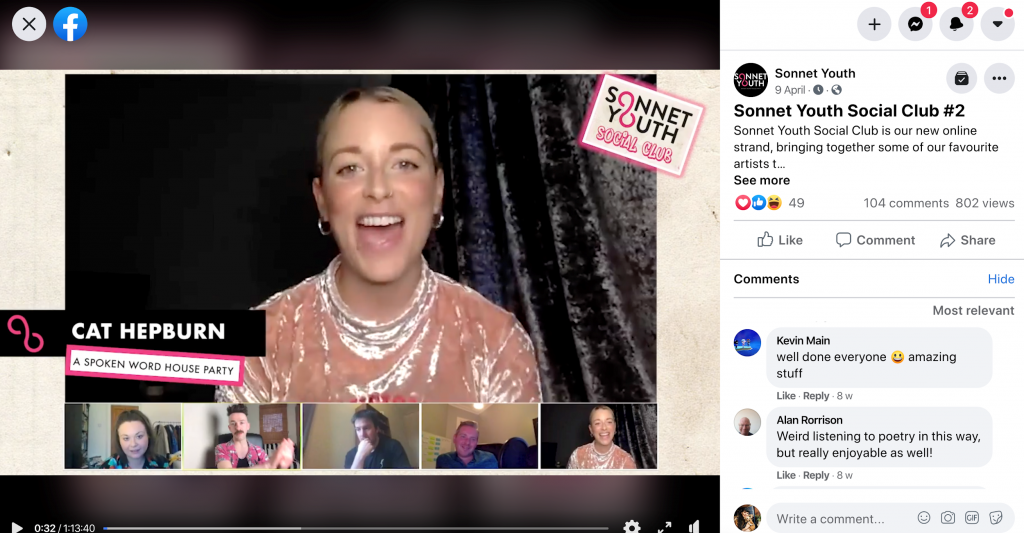 https://www.facebook.com/1706676719573416/videos/557083414924395
The online shows are free streamed and operate on a 'pay what you feel basis' – with 50% of donations allocated for operational costs and 50% donated to a different selected local partner charity each week.
After just over 6 weeks of moving their shows online, the stats are looking good and growing weekly.
Average audience figures: 960 people tuning into each show
Just under 6000 viewers in the last six weeks
19K minutes viewed in the last 70 days
The audience is 57% women, 39% men, the majority between the ages of 25 – 44. Most viewers are in the UK with fans also in Ireland, the U.S.A, Canada, France, Denmark, Australia, Spain, Italy and Germany.
Feedback from audiences and performers has been extremely positive.
Just over 2 weeks ago, in early June, they also launched the new Sonnet Youth Podcast.
Another innovation Sonnet Youth have introduced alongside their exciting new online cabaret shows is sponsorship opportunities for brands – offering businesses exposure to thousands of viewers.
The new business model is proving sustainable and the team plan to be online for at least the next year.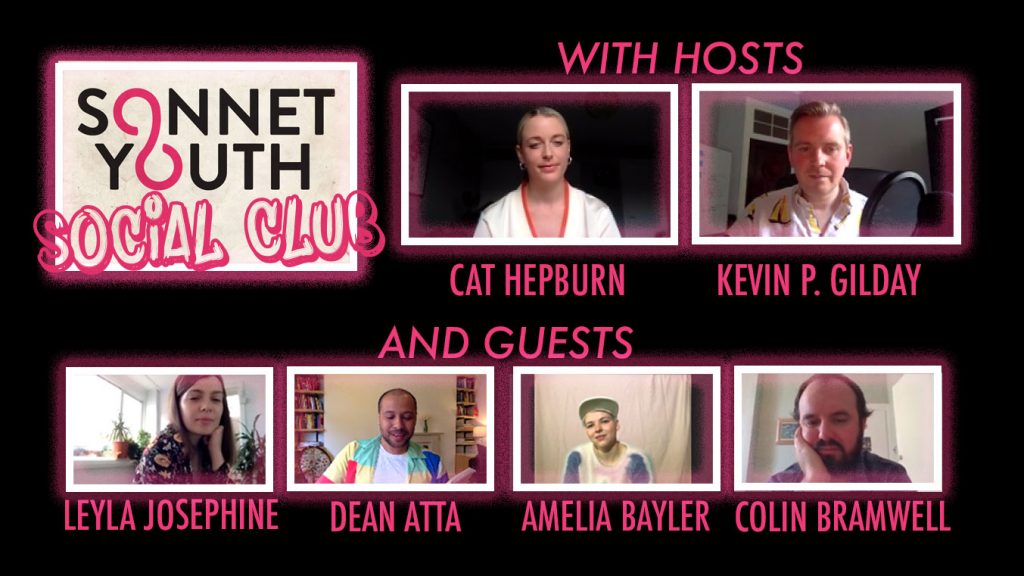 To learn more about how Sonnet Youth have moved online, you can view their shows here https://www.facebook.com/sonnetyouth/videos
To learn more about using live streaming for your organisation contact BlueStar Streaming.







by