With coronavirus causing global disruption and challenges for businesses and working practices, going virtual is a very practical option businesses can take as part of their continuity planning.
The need to postpone or cancel unnecessary travel, events, conferences, meetings and group gatherings, increased numbers of employees working remotely and self isolation means businesses need to think differently and creatively around managing current risks and minimising impact. When large scale gatherings aren't practical or possible, live streaming is an effective alternative.
We realise it's a challenging time for businesses right now. Using live streaming can make things easier and help businesses manage through this difficult time, working around travel and gathering restrictions whilst still connecting to their audiences.
As part of the support we can provide to our clients and other businesses we're currently offering use of our Glasgow studio at reduced rates for live streaming.
Live streaming means you keep in contact with your audiences whether that's employees, suppliers, partners or customers. You'll be able to interact with your audiences – through real time comments, Q & A and feedback sessions and bringing in speakers working remotely. You'll also be reducing travel costs and risks.
Live stream from our custom built studio in the East End of Glasgow or another suitable environment.
As a video marketing and live streaming specialist we regularly use live streaming with our clients, for a variety of purposes – including conferences, training and development, sporting events, award presentations, , virtual tastings and tours, live interviews and Q& A sessions, music gigs and concerts, arts performances, media briefings, influencer outreach, product launches, demonstrations and more. It needs careful planning, for example around objectives, audience, marketing, timing and of course technical set up but is a fantastic tool to include as part of an effective marketing strategy and right now, live streaming could well offer a lifeline for many businesses.
Have a look at the examples below of using live streaming and if you'd like to discuss how you can use it to support your brand and business, contact us.
Awards nominations, conferences and events
BAFTA regularly and very successfully use live streams for their nominations and awards events.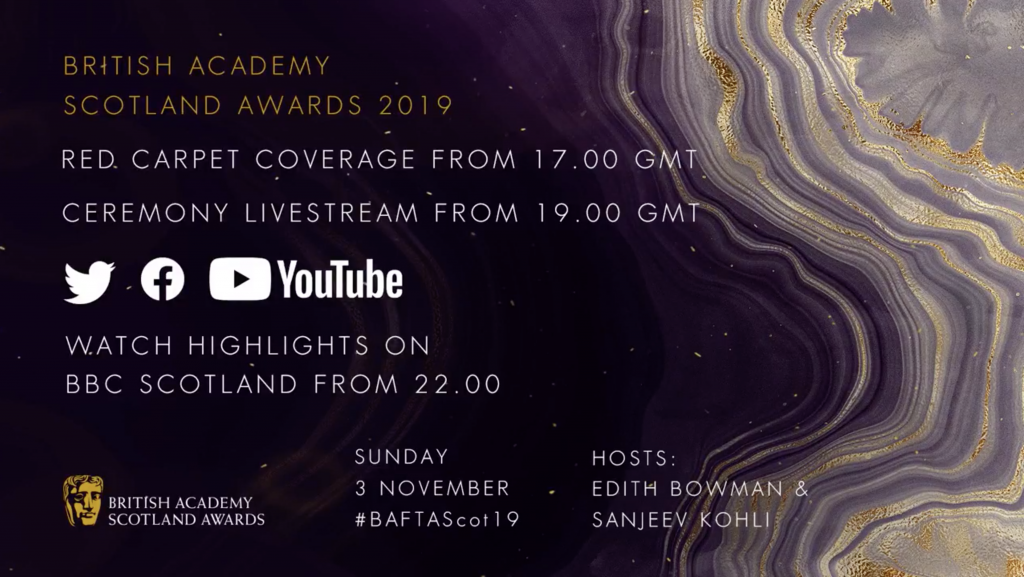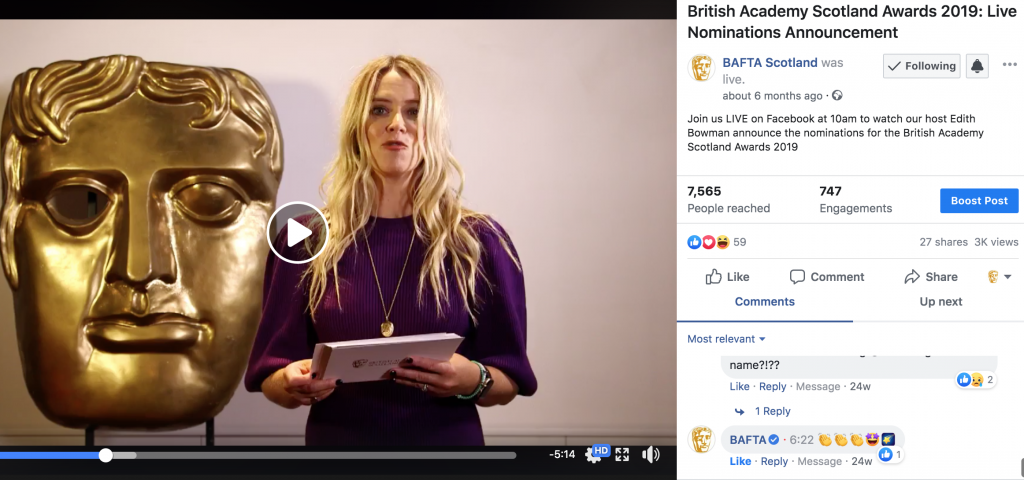 https://www.facebook.com/baftascotland/videos/974847579534325/
Panel discussions
UWS Music Industries panel discussion with Emma Pollock, Nicola Meighan, Tamara Schlesinger and Jo Mango (as Chair) with live audience interaction.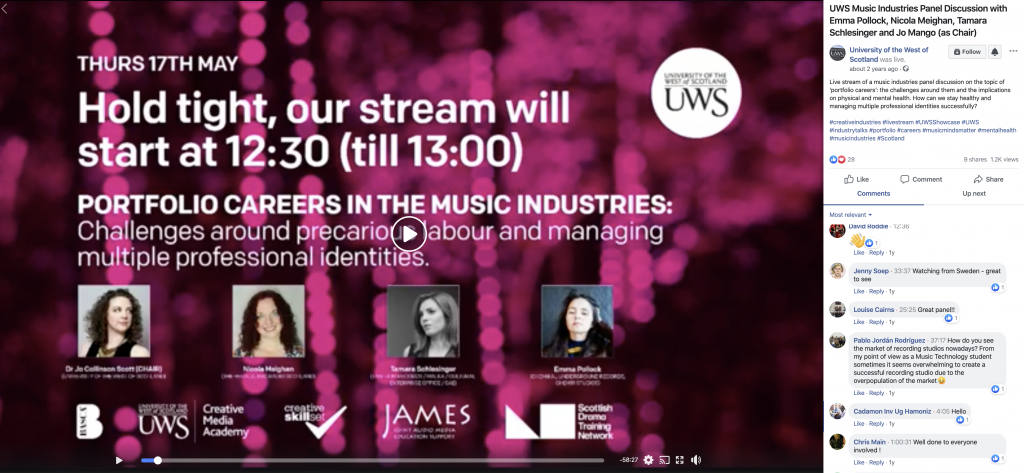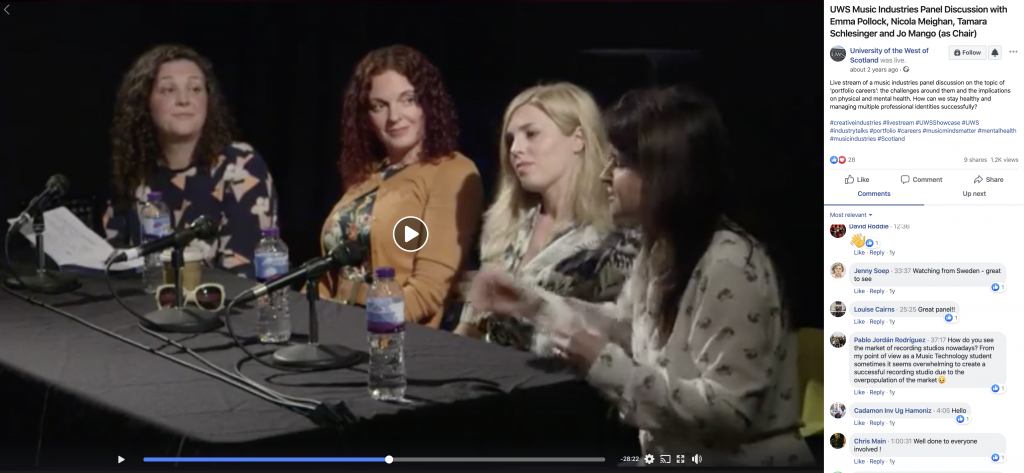 https://www.facebook.com/UniWestofScotland/videos/10156501737709515/UzpfSTE0MTUwNzYzMDUyMDk3ODM6MjE0MTA4NTc3MjYwODgyOQ/
Whisky Tastings
The Scotch Malt Whisky Society tasting livestream – broadcast to members worldwide with live tasting and audience interaction.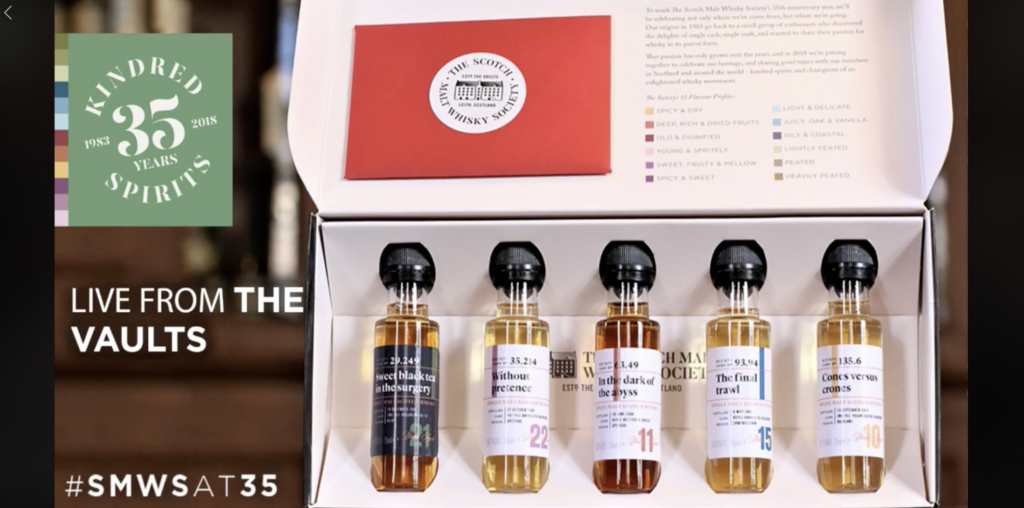 https://www.facebook.com/thesmwsuk/videos/2004158522979643/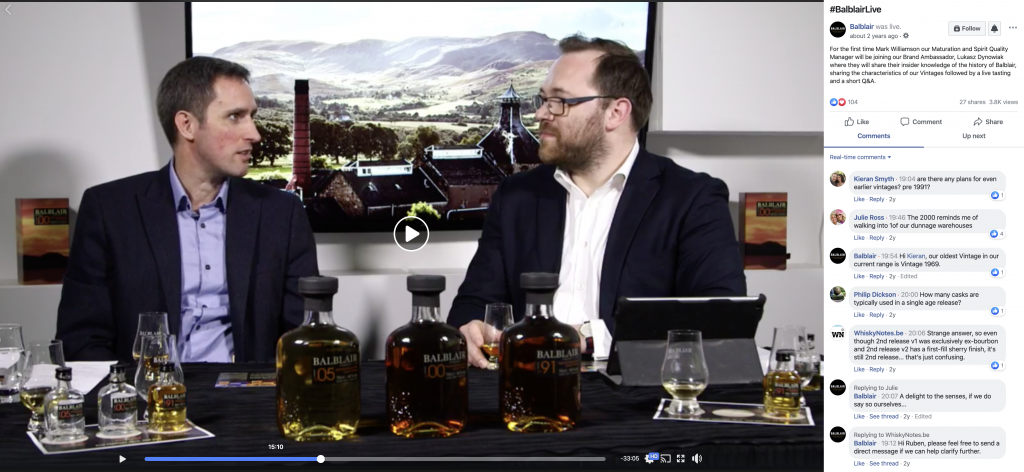 Balblair whisky tastings, sharing insider knowledge followed by live tasting and a short Q&A.
https://www.facebook.com/balblair/videos/10156108844996197/UzpfSTE0MTUwNzYzMDUyMDk3ODM6MTg4MDU4MTY5NTMyNTkwNg/
Caorunn Gin Cocktail Masterclass
Use live streaming for demonstrations, training, masterclasses and workshops.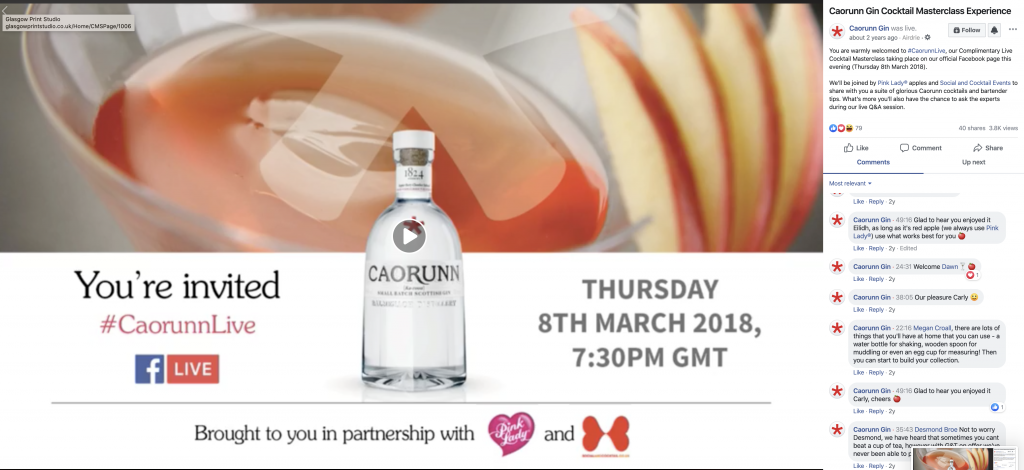 https://www.facebook.com/caorunngin/videos/267799517419897/UzpfSTE0MTUwNzYzMDUyMDk3ODM6MjE5NzU2NzA1MDI5NDAzNA/
One to one interviews, studio and panel discussions
Our regular Jibber Jabber studio discussions, this time with musician Lavinia Blackwall.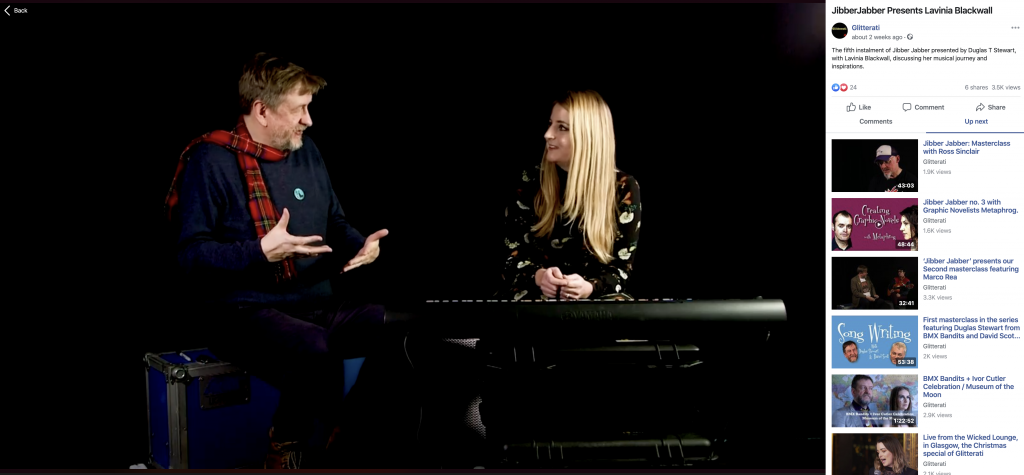 https://www.facebook.com/GlitteratiShow/videos/222151075633901/
Studio discussion with Dyslexia Scotland as part of the Bluestar Streaming documentary Educate Me.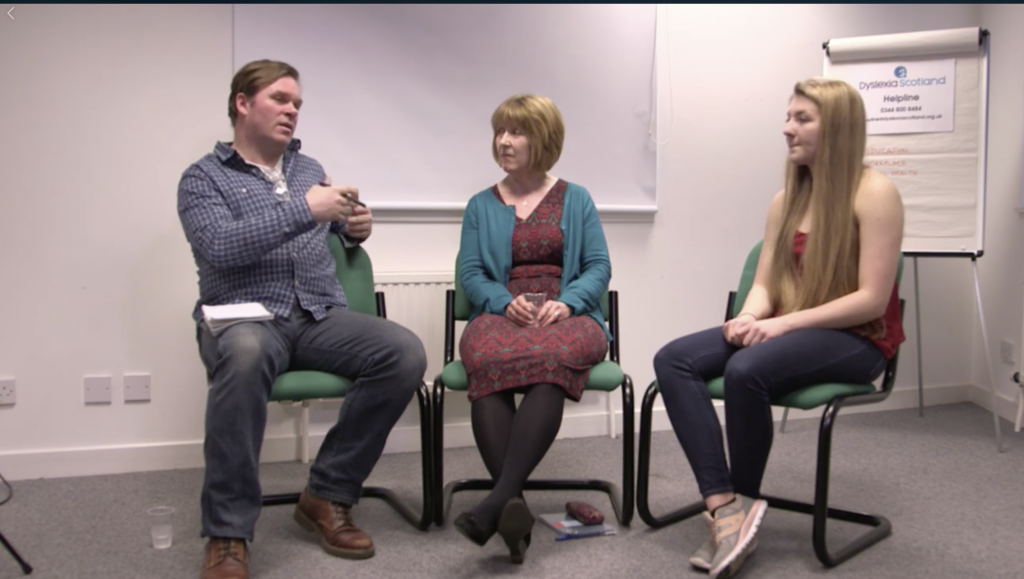 https://www.facebook.com/DyslexiaScotland/videos/1420657834632395/
Music gigs and arts performances
BMX Bandits are just one of the bands and artists we work with to live stream their gigs, interviews and performances.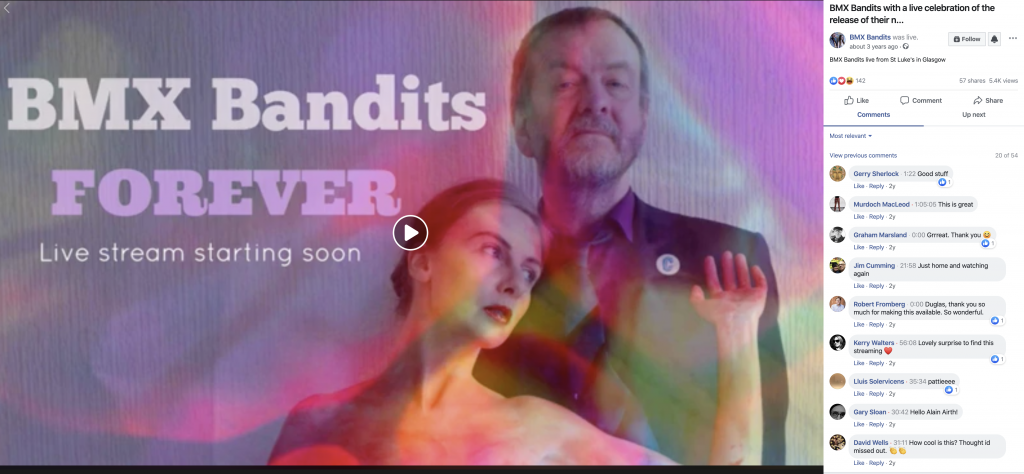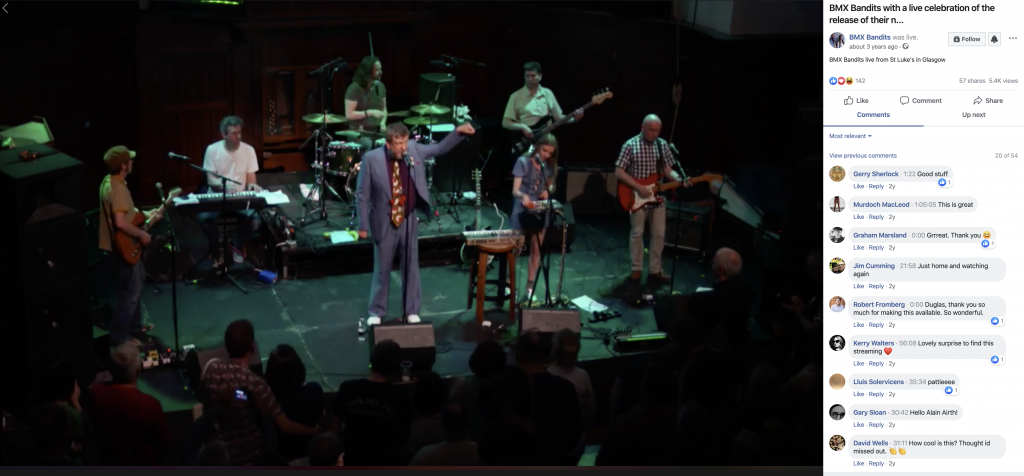 https://www.facebook.com/BMXpop/videos/1360794907307644/
To use live streaming and discuss options, get in touch and we'll be happy to arrange a skype or phone call to explore ideas.







by