We've previously established that video marketing is a key part of an effective overall brand and marketing strategy. As such, with the new UK financial year starting soon, if you haven't already done so, it's time to make sure you've planned it into your budget for the year and thought about how to make the most of your allocated video marketing budget.
Costs and budgets are a concern for all businesses, particularly for small and medium size organisations who may be concerned about costs of video marketing, setting a realistic budget and deciding the most sensible way to spend it on video.
How do you get the most out of your video marketing budget in 2020?
Strategy
Think about your strategy:
what are your objectives, how do you want to use video?
what outcomes do you want it to support?
what are the timescales?
what are the constraints, resources and priorities?
what would you consider a success?
do you want to produce a one-off video for a specific project or do you want to put out content as part of a year-long campaign?
is it something you're willing to try to see what impact it has or have you previously used video or seen it used well elsewhere and want to expand on that?
Look at your overall marketing plan and think about how you could integrate video to create greater impact and results.
Really, the message is to begin with as clear an idea as you can about the outcome you want to achieve. Try to define the scope, allocate a budget and agree reasonably expected outcomes.
Even if you're not sure how video can help you or exactly what way to approach it, if you're not sure what a realistic budget or expected outcomes might be, that's ok, BlueStar have years of experience to share with you .
At BlueStar Streaming we offer various levels of support including consultancy and training and work with our clients on anything from:
one off projects to multi -channel campaigns
content creation – from hero videos to micro moments
year-long support packages, reviews and longer term digital and agency partnerships
A good agency will help you make the most of your investment in video and film, using it across channels, integrating it with your social media and web strategy and helping or advising you market your video content and manage your campaigns. It all depends on your requirements and the level of support needed. It's good to speak with an agency early on in your plans as they should be able to advise on what will work best for your needs, helping you clarify your video marketing strategy and save time and money. It's not just about video production. For example, we're used to working with our clients in a variety of ways from video production to consultancy and project management, to delivering and managing social and web strategy, content creation and campaigns.
What type of content?
Have you considered what type of video content will be useful to achieve your business outcomes?
There's such a range of video content to choose from. Some you may be familiar with, others you may not have heard of or seen. Your video marketing agency can advise and suggest the best type of video content that will work for you.
From long-form video, tv ads and documentary style videos to short micro moments for use on Instagram and other social channels. Expert speaker or interview formats might work for you. Perhaps customer testimonials or product demonstrations. Live streaming on social channels is a great option to create engagement and interactive, participative customer experiences. Maybe you'd like to include some quirky cinemagraphs to catch the eye, perhaps 360 filming or drone footage, maybe some unusual and fun greenscreen studio content.
It's also about being smart around planning your content creation. Can you tie in with key calendar dates, key themes or upcoming events? It can be as simple as asking relevant questions during a video interview or shooting footage that can then be edited for use later in the year at the relevant time. Thinking ahead means you get more value out of your video marketing budget by creating a bank of content that can used throughout the year.
It's also usually possible to repurpose video for all platforms. That provides the opportunity to create great, relevant additional content for minimal additional cost.  So the content created for a specific event can be reused – for example a 2-3 minute video can be edited into short micro moments of 20-30 seconds clips for use on social channels, video shot to promote an event this year can be reused to celebrate the success post event and to promote next year's event. Secondary backup assets can be repurposed, for example backup audio recordings can be repurposed as standalone podcasts, another great, adaptable and cost-effective option for delivery of content to staff, partner organisations and customer audiences.
At BlueStar Streaming, in addition to the required footage, we always look to identify opportunities to create additional assets and added value, where possible, appropriate and relevant, including repurposing content.
Video production
You may not have the budget or need for an in- house video production team but that shouldn't be a barrier to using video. Most organisations outsource video production – it's a specialised area and maintaining a full time in-house team with the required equipment, software and know-how can be expensive and impractical. Even larger organisations who do have their own teams, will often call in other video marketing agencies to supplement their team, for specific projects (either internal or working with their clients) or to provide training and support for their in-house teams. We often work with social media and brand agencies who either introduce us to their clients as their specialist video marketing partners or we work as part of their in- house team, supplementing their skills to provide a seamless service to the client.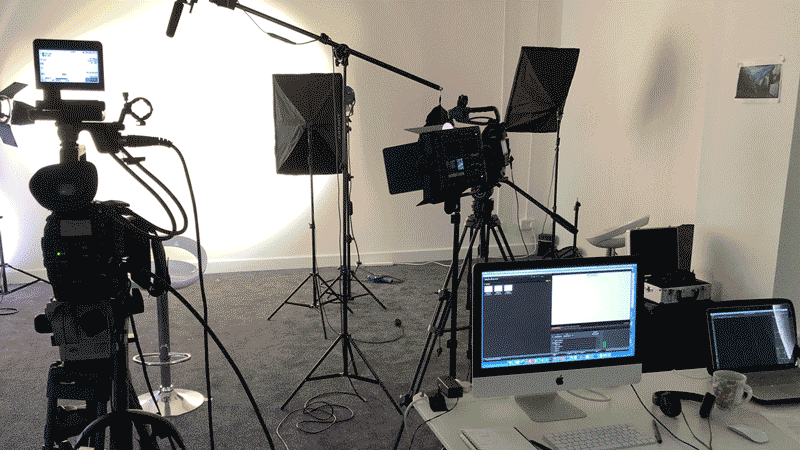 Using a professional video marketing agency such as BlueStar Streaming doesn't have to be expensive and agencies generally offer various levels of support from full agency support to a hybrid model working with and supporting your own teams.
Many of the clients we work with like to work on an ongoing partnership basis which is why we introduced digital partnerships and year-long support packages for businesses a couple of years ago. It's a great option as we get to know our clients' businesses and teams well, understand how they like to work and have a deep understanding of their needs and objectives around video marketing. It makes it easier for the client to plan ahead and they know they can get great, effective and regular content at reasonable rates and that we'll work with them closely to help come up with really cool content. It's like having a team of video specialists embedded as part of your team that you can call on when needed. Using a professional video marketing agency makes it cost effective – it's like having your own internal team but without the costs and the risk.
If you have an in-house marketing team your video marketing agency will work with them. If you need marketing support your video marketing agency can help with that and can even plan and manage campaigns for you or work with your team to provide support and advice as needed and to help them develop their skills.
Marketing
You need great video content but once you have it, you need to market it or find someone to market it for you, if you're going to get the business results you're anticipating.
What will you do with your video content? It's important to think how it will be used. Have you the resource in-house to plan and manage campaigns? If not, is that something your video production agency team can help with? If you've used video in previous campaigns, what were the lessons learned, what worked, what didn't, what would you change?
Distribution
How do you plan to distribute your video content? How will you get it out to your audiences? What platforms will you use? How will you track and measure the success and results of using your video content? All things to think about and plan for. It's no good having amazing content if no one sees it. For agencies it's also incredibly frustrating and disappointing to create fantastic video content for a client for them then to sit on it, not distribute and promote it or for them to do that so long after the event that the impact is reduced or lost. It's not a good use of budget, time or resources so make sure you have a plan in place to distribute and promote your video content soon after you have it whether you do it yourself or work with an agency who plan and manage it on your behalf.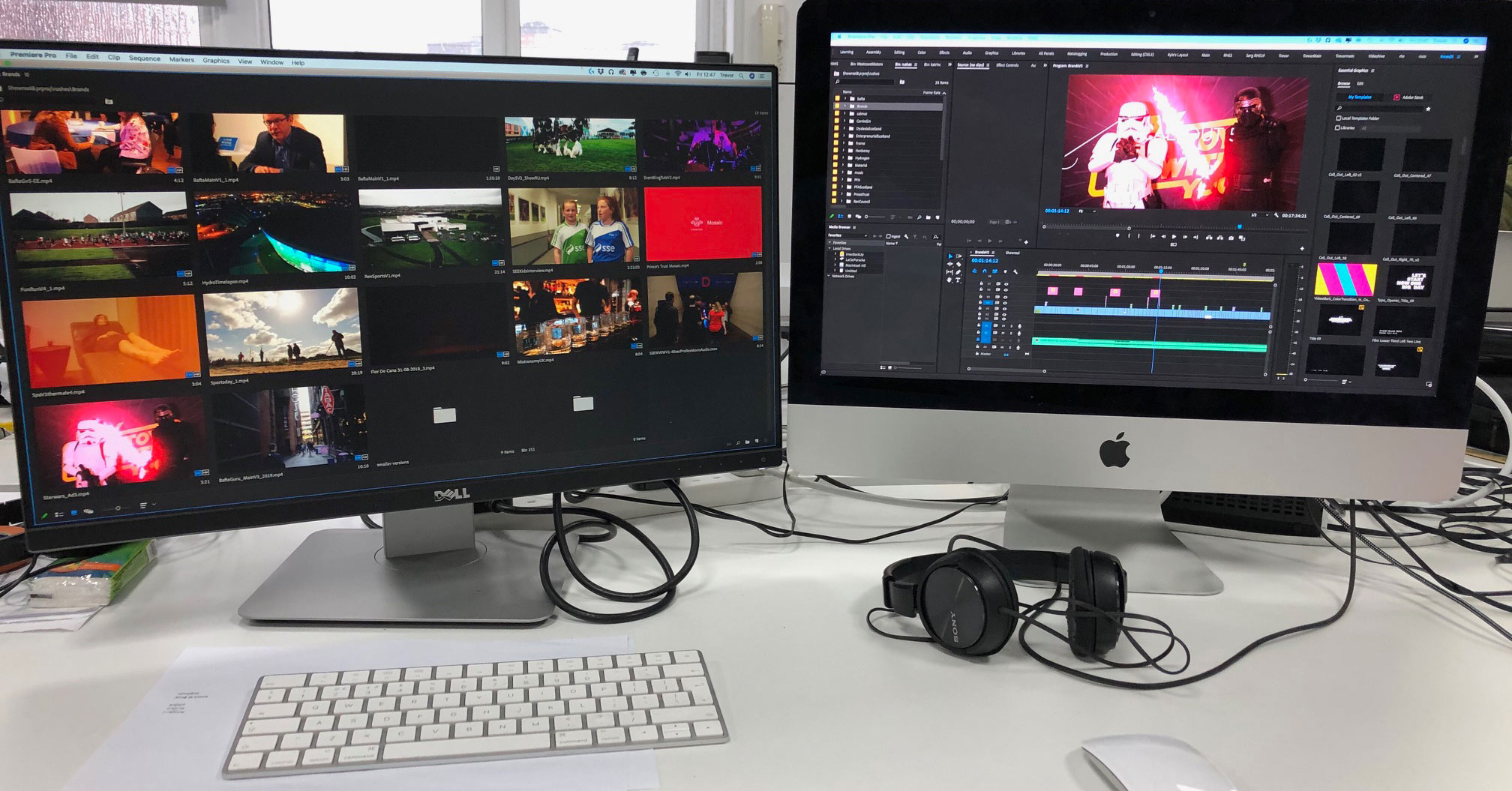 Businesses often want to hire studio space for their own shoots or for studio based interviews and live streams and that's also a cost that should be considered as part of the planning process, as is cost of any kit you may need. At BlueStar Streaming we have our own dedicated studio space, meeting rooms and edit facilities for creating content. Based in the East End of Glasgow the studio has full green screen and studio lighting set-up for interviews and live streaming – minimising costs and maximising use of time for our clients. We also offer flexible cost-effective options including dry hire, where clients can bring in their own crew, equipment and catering or we can provide a wide range of production services for managed shoots.
Hire of production kit is also something to consider and make sure is factored in your costs and included within quotes from agencies. Equipment can be expensive to buy so hiring makes sense in many cases, even if using an in-house team for your shoot. It allows businesses to save on costs, transport and storage and is also something we offer for our clients with competitive camera and kit hire including and full technical support available if needed for their own shoots.
We have all our own in-house kit and professional editing suite for fast turn around and all post production including full editing and grading, film mixing, mastering, captions, voiceover, motion graphics, cross platform testing and full back up and storage on and off site.
As well as faster turnaround the advantage to clients is not having to deal with multiple providers and lower costs, working with the same specialised team throughout.
Those are just a few of the areas we advise thinking about when planning your video marketing budget for 2020. If you'd like to develop your video strategy, to plan your first or next campaign or simply discuss how video marketing can benefit your business, contact us and we'll be delighted to chat.







by